We live and breathe cranes
VETTER Krantechnik GmbH is a medium-sized family business and has developed into a leading European manufacturer of slewing jib cranes, gantry crane systems and ROTOMAX® load turning devices over the course of its 130-year history. Cranes are our absolute passion - this is where our expertise lies!
100000
Jib Cranes produced worldwide
After successively leaving our traditional location in Siegen-Eiserfeld, we now produce cranes at our Haiger site using state-of-the-art manufacturing technology. These cranes meet international standards and are used worldwide for a wide variety of tasks. In addition to the standard portfolio, we also offer sophisticated and customised solutions, such as for the oil, gas and offshore industries. VETTER thus offers the largest jib crane programme worldwide and, with its expertise, is a reliable partner even for complex solutions.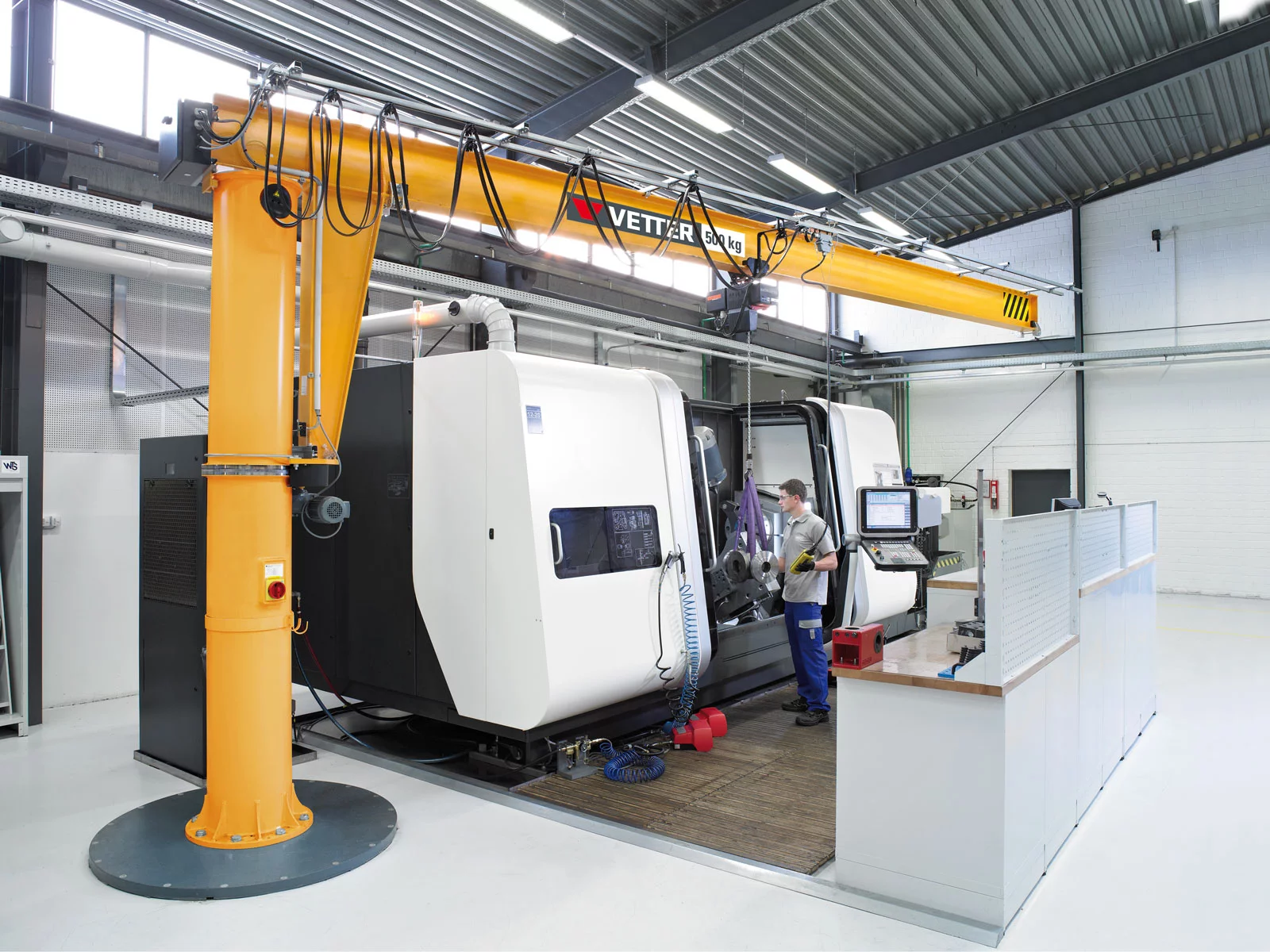 ... set your production in motion

Almost everything is possible – having the world's largest range of slewing jib cranes, we supply international customers in various industries. For every customer we have the right crane solution – from column-mounted and wall-mounted slewing jib cranes through the smooth-running crane with aluminium jib arm to mobile slewing jib cranes. Thanks to our comprehensive range of accessories, the slewing jib cranes can be adapted to individual requirements.

Key data jib cranes:
Capacity from 80 kg to 32 t
Outreach up to 20 m
... tackle every task

When presented with complex requirements and when special features are desired, we develop a suitable crane solution for our customers together with our competent engineering team. Cranes with a capacity up to 100 t and an outreach up to 20 m are feasible.
Slewing jib cranes with several jib arms
The place-saving solution for large production islands: Our slewing jib cranes with several jib arms on one column. The compact design of this crane solution enables maximum usability of the work surface.
Yachting cranes
Lowering or hoisting yachts safely in or out of the water – thanks to our yachting cranes, we have a suitable solution for every marina and every transport task.
Individual slewing jib crane solutions
No task is too complex, no application area is too difficult. We implement individual slewing jib solutions also for the toughest handling tasks. We have numerous happy customers in the application areas of power plants, steel industry, offshore platforms, tank farms, or mining.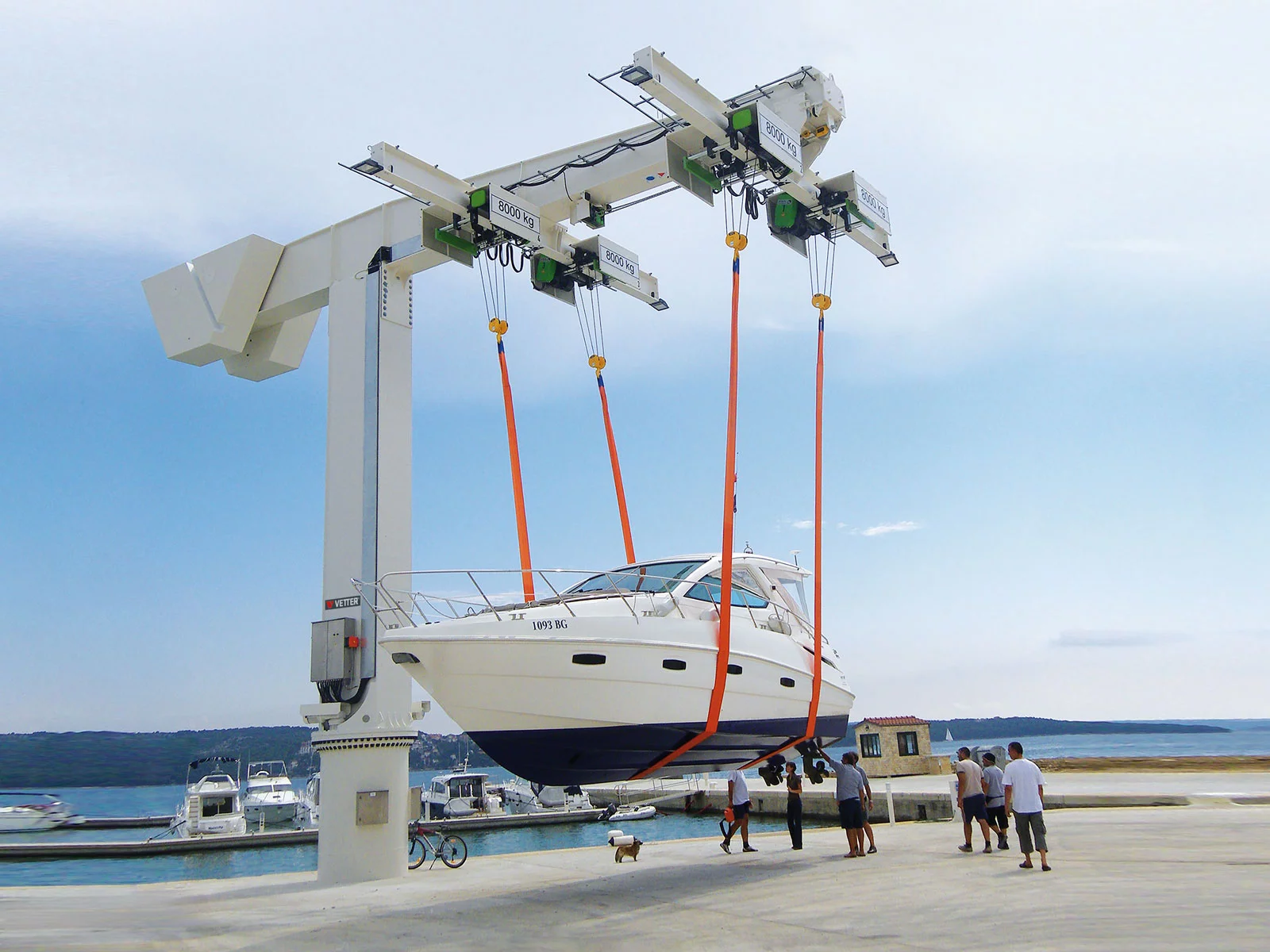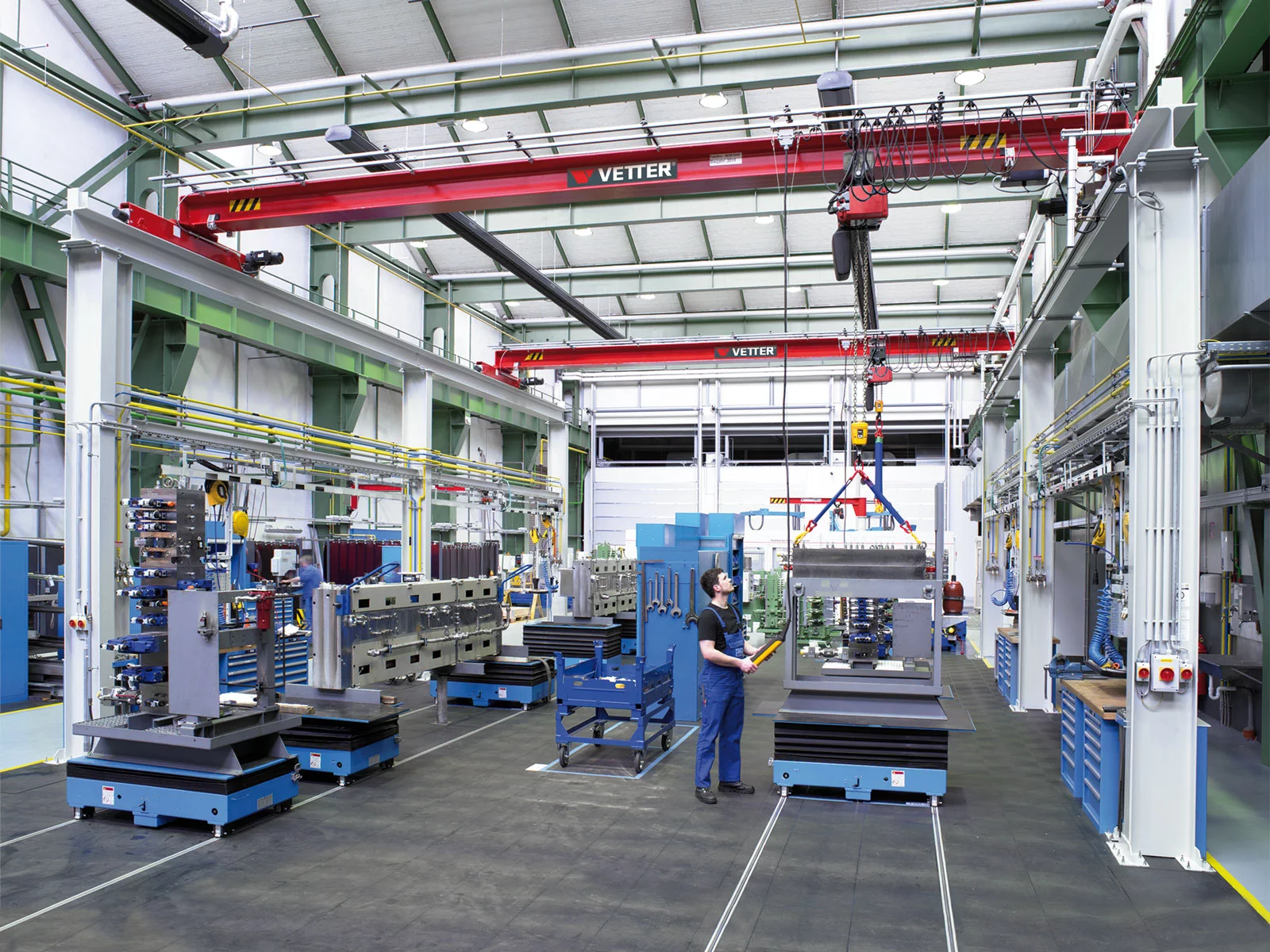 ... enable unlimited productivity

For maximum productivity in a wide variety of production situations, we provide our customers with individually customized gantry crane systems with capacities from 80 kg to 10 t, spans of up to 15 m, field lengths of up to 10 m (infinitely expandable) as well as overhead cranes running above and below.

Key data for gantry crane systems:
Capacity from 80 kg to 10 t
Length from 2 to 10 m
Width from 2 to 15 m
... ensure safety

ROTOMAX® load turning devices help in turning bulky and heavy parts easily and safely. Whether for single or tandem operation, with or without automatic compensation or manual or electrical lateral belt adjustment as well as a variety of different belt distance – we design ROTOMAX® load turning devices for every application area. Using simulations, we determine the respective requirements and develop customized solutions for our customers.

Key data ROTOMAX® load turning devices:
Capacity from 1 to 135 t
Units with fixed belt distance
Units with manual or electrical adjustment
Single units for tandem operation
Special devices, e. g. for foundries
Individual solutions tailored to your application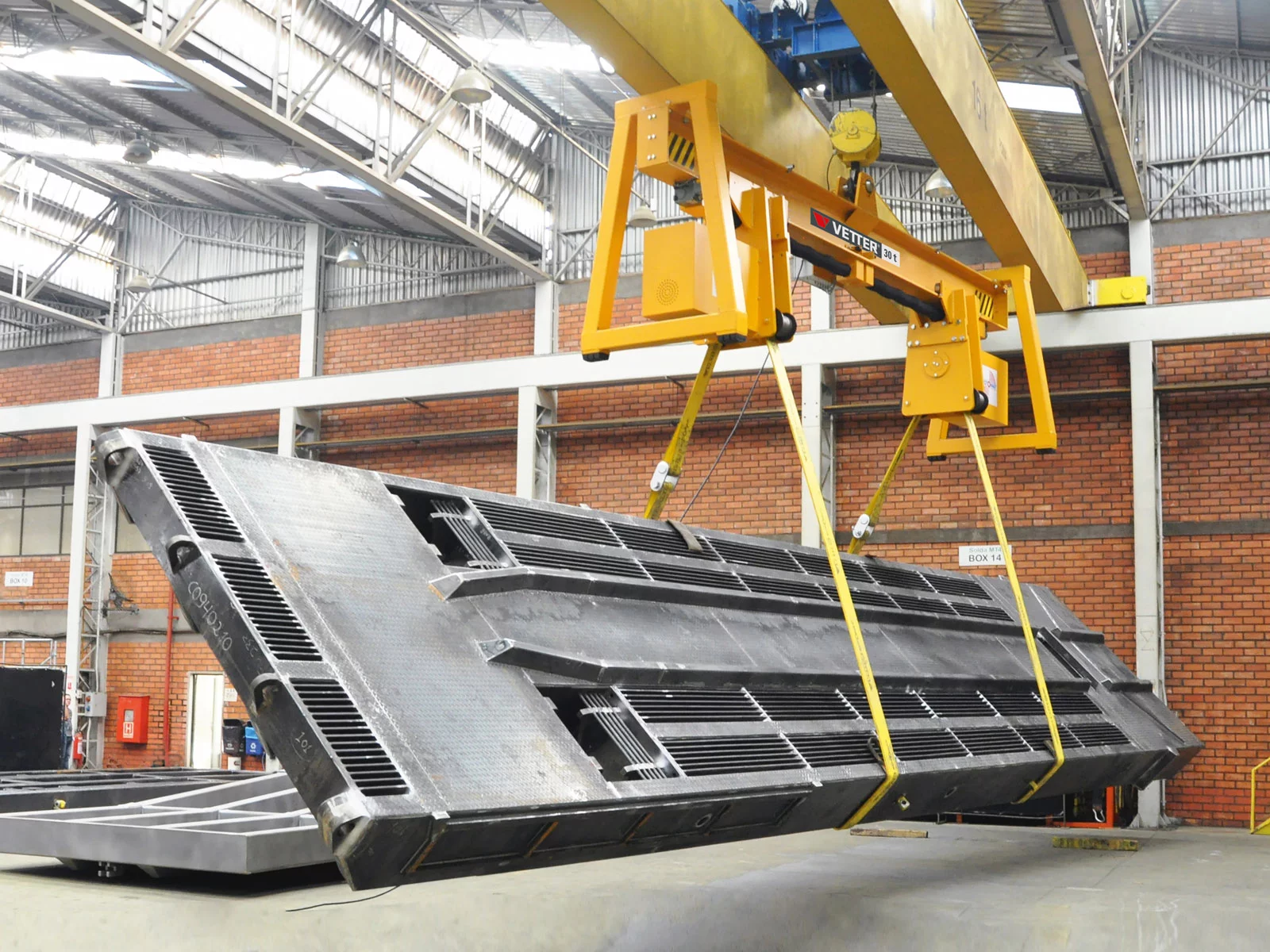 In the meantime, around 270 highly trained employees use their know-how and motivation to ensure the high quality of our products, so that our customers can rely on us. From project planning to commissioning of the systems and, if desired, also to service, a technically competent and reliable team is at your side. With VETTER, you benefit from first-class product quality and perfect support throughout the entire life cycle of our products - that's our promise to you.
Get to know us
VETTER cranes are based on the performance, experience and innovative spirit of our entire team. Experienced and highly trained specialists are at work for you every day anew and give their best. We are particularly proud of this good teamwork and are therefore happy to show you a glimpse behind the scenes during a visit, be it a factory tour or a product training session in our showroom.